How many products/services do you sell? How many pricing structures do you have for each? Do you offer volume discounts? A no-nonsense, structured approach which can be seamlessly applied (every time and without a second thought) can improve your sales strategy and have everyone on the same page.
The Product Catalog in Dynamics 365 makes it easier for your sales reps to increase their sales by having an authority by which to work when talking to potential customers about products/services offered. The product catalog is a combination of the products themselves, and the underlying pricing mechanism.
Below are the components which form the Product Catalog:
Families & Products – Products are the items which you sell and product families provide a way to group, classify and categorize products for streamlined product management. Both bundles and individual products can be included in a product family tree.
Price Lists – Price Lists are product groupings with associated pricing. Sales operation managers can link Dynamics 365 territories to price lists. This directly benefits salespeople by defaulting the appropriate price list to opportunities, quotes, orders and invoices.
Discount Lists - Discount lists are optional and are used in conjunction with price list items for volume pricing offers.
Unit Groups - Unit Groups define the quantities by which a product or service is sold. For example, mouse pads may be sold in lots of 50, 100, or 200. Or Services sold by the hour may be grouped by day, week or month.

As you begin configuring your product catalog, add components in the following order: Discount Lists (if needed), Unit Groups, Price Lists, Products. When adding Product, you can define bundles, which allows you to combine multiple products into a group, to be sold as a package. Product relationships can also be defined, allowing for the suggestion of product substitutions; accessory recommendations; highlight cross-sell and up-sell opportunities.
Once the Product Catalog is setup, salespeople will have the ability to select and add products to their Opportunities, Quotes, Orders, and Invoices.

Once a Product Line Item has been added, the User can open the line item and make any necessary modifications that are specific to the Customer they are working with (i.e. modify price per unit or offer a line item discount).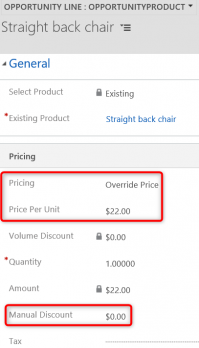 Furthermore, once a line item has been added, a Suggestions hyperlink will display. Clicking the "Suggestions" hyperlink enables the User to pick products suggested for up sell, cross sell, substitution, or as an accessory. The items selected are added as new product line items.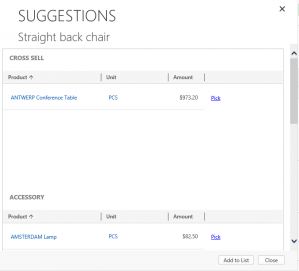 In addition to modifying the individual line items, the Salesperson can apply an overall discount to all product line items added, by dollar amount or percentage.

By recognizing the full potential of the Product Catalog in Dynamics 365, you can promote standardization amongst your sales team, and enable them to be more efficient and informed when speaking to customers and adding product line items to opportunities, quotes, orders, and invoices!
If you need assistance or have any questions when configuring your product catalog, please reach out to our support team at This email address is being protected from spambots. You need JavaScript enabled to view it.. We are always happy to help you increase the productivity of your Dynamics 365 environment!