Microsoft Dynamics GP 2015 Is Now Released!
The official Microsoft Dynamics GP 2015 release is out and available to partners through PartnerSource. The new Microsoft Dynamics GP 2015 includes more than 120 new features. As already mentioned before, some of the major changes in GP 2015 include:
Service Based Architecture (SBA) - offers the ability to centralize and automate the management of your GP system, giving users secure cloud access quickly, upgrading new customers and adding new companies as needed.


Identity management - enables users to log into their Dynamics GP web client account via the organizational account. This update allows for a single secure log in for access to the GP workspace.


GP 2015 will also add an Employee Self-Service (ESS) app for time management since Microsoft Business Portal is going to be discontinued.


Azure procurement


Apps on multiple platforms.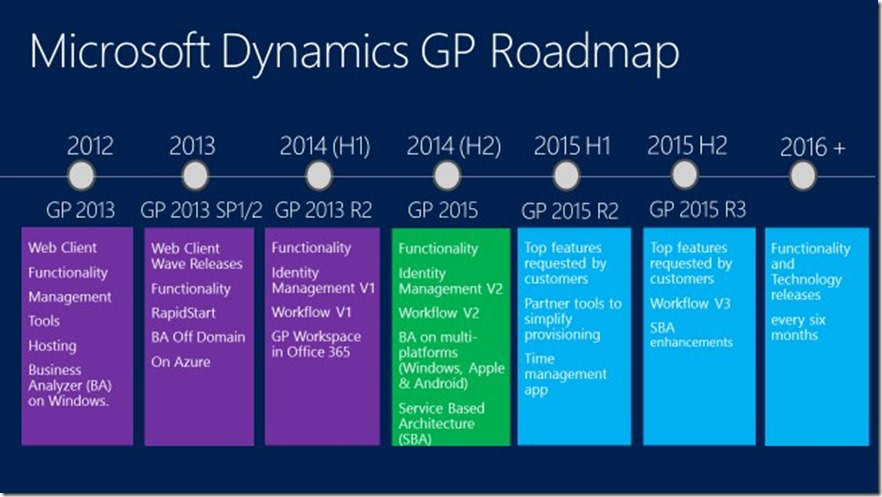 The Dynamics GP releases will be coming out in six month intervals, so they can deliver new features as soon as possible to clients. The following two releases in 2015 are expected to be named GP 2015 R2 and GP 2015 R3.

If you are curious about seeing Microsoft Dynamics GP in action, try our Microsoft Dynamics GP Interactive Demo.
Download a FREE Microsoft Dynamics GP Demo now!
Doriana Kote, Web Marketing Coordinator, WebSan Solutions Inc., a 2014 Ontario Business Achievement Award Winner for Service Excellence