Microsoft Dynamics GP 2013 offers users different ways to customize their home page and area pages. You can add content areas to your Home Page, such as To Do, Quick Links, Microsoft Connect, Business Analyzer and Reports.
You can also modify the layout and change your home page role. Click the "Customize this page..." link at the top of the content pane on your Home Page to open the Customize Home Page window.
In the "Column Stack" section, select the desired arrangement. Choosing "Right" places the minimized windows at the right side of the screen, 'Top' would place them at the top, etc. This will make navigating the menus easier for you. If you are interested in viewing all the menu categories, the "Bottom" arrangement will make them look more organized.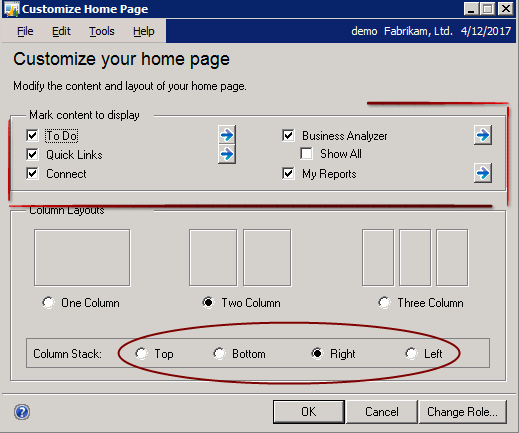 Download our FREE Microsoft Dynamics GP Interactive Demo and see Dynamics GP in action! 
Doriana Kote, Web Marketing Coordinator, WebSan Solutions Inc., a 2014 Ontario Business Achievement Award Winner for Service Excellence