Friday, 02 August 2019 19:50
Microsoft Office 365 requires employees to use their username and password in order to log in. However, a common issue that you might come across is people forgetting their passwords. When this occurs, Office 365 admins have privileges to reset the password. To begin resetting a password, follow the steps below:

1. From the Microsoft 365 Admin Center 
a.       Look for the Active users" tile. 
              i.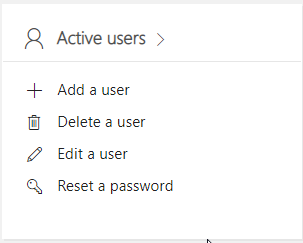 b.       Select "Reset a password"        
    i.            A side window will open and from there you can search for users for which you need to change their password, or you can scroll down the list of users. 

1. From that list you need to click the check-box beside the user(s) who need a password change. 
a.       You can choose one or multiple users for resetting passwords 
b.       Your own password can not be changed with multiple selections 

2. The next side window to appear will show you who has been selected and present you with the option to Auto-generate a password of all the manual creation of one. 
a.       You can choose the check box to make the user change their password when they next sign in. If it is unchecked, then the password will remain the same until the user changes it themselves. 

3. Click the "Reset" button and the next window will show success of the password reset(s). 

4. There is also a choice to send an email to a specified email address with the password. This is optional. 

Microsoft Office 365 makes it easier than ever to manage users from the Admin Center. Want to find out how Office 365 can help your company? Click the link below to learn more about the features available in Office 365.


Click Here to Learn More About Office 365