Thursday, 29 May 2014 16:57
Download Dynamics ERP Free Demo
Several systems are now being integrated with or migrated into the cloud.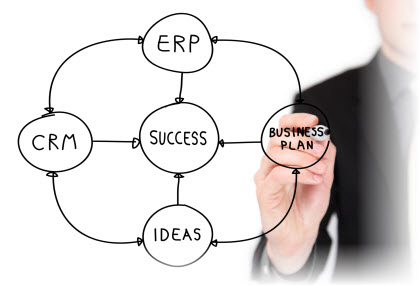 Discussions regarding media sharing, searching, and collaboration systems will normally note that such forms of systems are on the exterior of the core business of the company. Because of this, it becomes a great idea to move your ERP to the cloud.
Just like any other businesses, you also demand scalability, flexibility, and security. The cloud offers all of these necessities and, what's more, it is really affordable. So, if you still can't make up your mind on whether you will move your ERP to the cloud or not, the following are the advantages that may help you make the right decision.
Small Initial Investment
Services are given on a pay-as-you-go, subscription basis. This only means that the implementation of the cloud-based ERP system could hugely lessen the initial capital amount of investing within the ERP system. A lot of vendors might also guarantee that they won't increase costs once you go on with the utilization of the system even the term has already expired.
Prompt Implementation
A cloud ERP solution is hosted and managed by a vendor and so you no longer need to install or set up any software or hardware. A good example of this solution is the newest Microsoft Dynamics GP that is designed to function just the way you want it to.
Free Of Costs On Server Maintenance
By going for a hosted ERP solution, you will no longer need to run your own software and hardware. It provides office space, gets rid of maintenance fees, and alleviates electricity usage.
Ease Of Access Inside The Discrete Environment
With this kind of solution, any authorized individual has easy access to your system through the cloud as long as they are connected to the internet. This enables sharing of information among remote staff across various locations.
Better Integration Through Other Systems
The cloud has been purposefully created for simple interoperability that complements the option for present or future utilization of extra products.
Data Back-Ups
There could be terrible risks of in-house server's crashing and losing data, but a 3rd party hosted ERP solution comes with redundancy. This simply means that your information will be copied to the minimum of two locations. Hence, if one falls short you still have not lost anything.
Superior Focus On The Core Business
You will do away with wasted time from keeping an in-house server, enabling you to focus on developing your business.
Lesser Staff Needed
You must admit that hiring IT staff could be expensive. Through the use of cloud technology, you will no longer need the assistance of IT staff to manage your server. This means lesser expenses at the end of the day.
Knowing about all these advantages of moving your ERP to the cloud, you must now have a better idea on what to do next. Achieve success for your business with a cloud ERP solution.
WebSan Solutions Inc. is a Microsoft Silver Certified ERP Partner with over a decade of experience in Enterprise software solutions. We provide our clients with reliable business solutions, such as Microsoft Dynamics GP and CRM to help them transform their business.
Wednesday, 30 October 2013 11:46
It will surely be!
Many business owners that are in the process of expanding their company will need a bigger and better ERP (enterprise resource planning) system to handle day-to-day business operations. According to a report called "ERP – The Cuckoo in the Cloud Land", 84% of respondents said that they used at least one form of ERP. More businesses are moving to the cloud for a number of reasons which can include: Lowering the cost of ownership, becoming eco-friendly and reducing dependence on internal IT personnel.
The report also advocates 2014 will be the year of the ERP cloud. According to survey respondents, 14% have fully migrated an ERP system to the cloud, with the majority (31%) saying they will migrate in the next 12 months. A further 27% said they'd be in by the end of 2015.The report also conducted a survey of critical areas of the organization that were important to business owners and SQL databases got 69% of the vote, followed by ERP (66%) and accounting and finance apps (66%),Business intelligence (48%) and CRM (40%).
At WebSan Solutions, we offer an online (SaaS) hosted-enterprise business software solution, leveraging the vast capabilities of Microsoft Dynamics GP. Microsoft Dynamics GP (formerly Great Plains) is one of the top-rated accounting and Enterprise Resource Planning (ERP) software solutions on the market today.
Not everybody is convinced about moving to the cloud, but in time that will change. If you have any questions about ERP Cloud or migrating to the cloud, contact us for more information.
To read more about ERP Cloud facts click here.
By: Natalie Williams, Marketing Coordinator, WebSan Solutions Inc, a Microsoft Dynamics GP Partner and 2013 Canadian Channel Elite Awards Winner