Microsoft Dynamics GP, Microsoft Dynamics 365 for Sales/CRM & Dynamics NAV Blog
Tuesday, 12 February 2019 19:30


If a business wants to be successful in this modern digital world, it must remain innovative. Operating as a fully digital firm goes beyond just having an electronic communication system installed. It's about running the company using ERP software to streamline the business and create B2B integration. In this new digital era, the demand for B2B integration is on the rise and is turning into a requirement in order to work with most companies.

Electronic Data Interchange (EDI) is the computer-to-computer exchange of business documents. It allows businesses to send documents to one another using an electronic format. This standard template can then be read by different systems to locate information. The most common documents that are sent using the EDI template are purchase orders, purchase invoices, advance ship notices, bills of lading, inventory documents, shipping documents, payment documents, and even some custom ones.

The Benefits of EDI

Reduced Costs
By sending a document using EDI, a company can reduce its costs on printing, reproduction, storage, filing, and document retrieval. This also frees up the individual to focus on more important tasks.

Improved Data Quality
One of the most common areas for human error is data entry. By using EDI to import the data from the document into the system, there is less room for error resulting in better data quality.

Shorter Business Cycle
Companies using EDI will have a shorter business cycle because they receive the documents quicker. A transaction that use to take up to five days to complete can now be completed within an hour. Orders and payments will be processed a lot quicker which will increase the cash flow of the company.

Improved Data Security
EDI is a secure way to transmit data from one computer to another. Encryption and decryption programs along with passwords are used to ensure that the data is safe while being transmitted.

Ease of Auditing
Since EDI is transmitting all the data into the system, there is less room for any errors so therefore auditing will become much easier. Reports can be created for all the EDI transactions and then presented to the auditor, making the whole auditing process quicker and easier.

Strategic Business Benefits
Adding EDI into your current Dynamics GP environment will strengthen businesses and create strategic business benefits. Using digital transactions, businesses can always be up-to-date with all the transactions statuses. This knowledge will help the business to make better and faster business decisions going forward.


Contact us at This email address is being protected from spambots. You need JavaScript enabled to view it. to get started today
Tuesday, 12 February 2019 00:28
Goal management in Dynamics 365 is a tool which provides the ability to manage KPIs in just a few clicks. You can use goals to compare targets and actuals for a defined period. And given the fact that Goals is an out of the box feature with Dynamics 365, you can set them up in no time at all. Additionally, since Goals are native to the system, they work seamlessly with workflows, business rules and other various Dynamics 365 functions.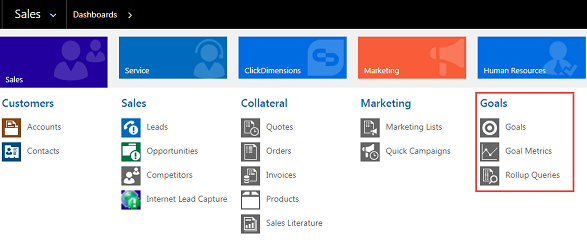 To help you understand how goals work, consider the following scenario:
Your company sells drywall, you, as the sales manager, want to set a revenue target for the overall sales team and then targets for each individual sales team rep who will contribute to the sales team target. With the given targets you want the ability to monitor progress throughout the fiscal period.
To get the results you desire you will need to utilize a couple entities in Dynamics 365 and create a handful of records:
1. Goal Metric: this allows you to set the detailed measurement (amount or count) for the defined goals. You can create multiple goal metric records to measure different elements, revenue and number of panels sold for example.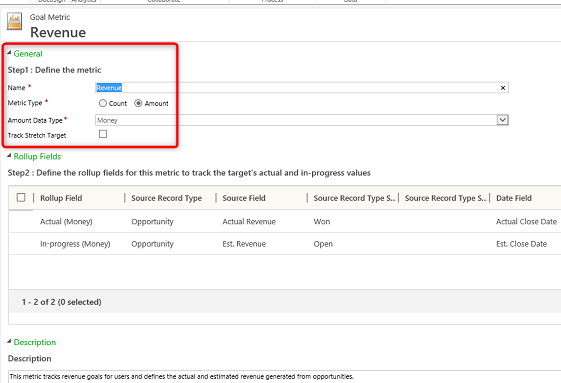 2. Rollup Fields: the goal metric includes a section where you identify the rollup fields which will be used to track against the metric. You will define rollup fields which will be used to measure both the in progress and actual values.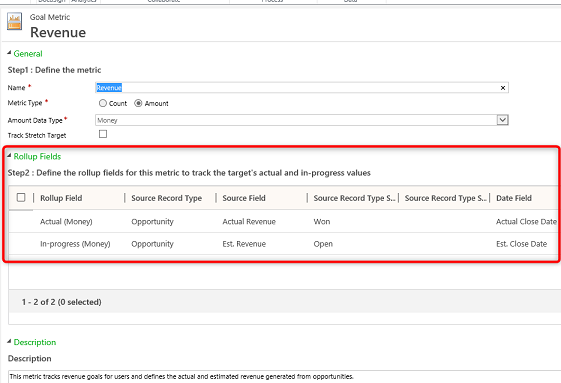 3. Goal: the entity where you will define who is responsible for the goal, the metric being measured and the target. In the scenario where you are setting an overall sales team goal and then individual goals, you will create multiple goal records (1 for the overall cumulative goal, and then 1 for each sales team member).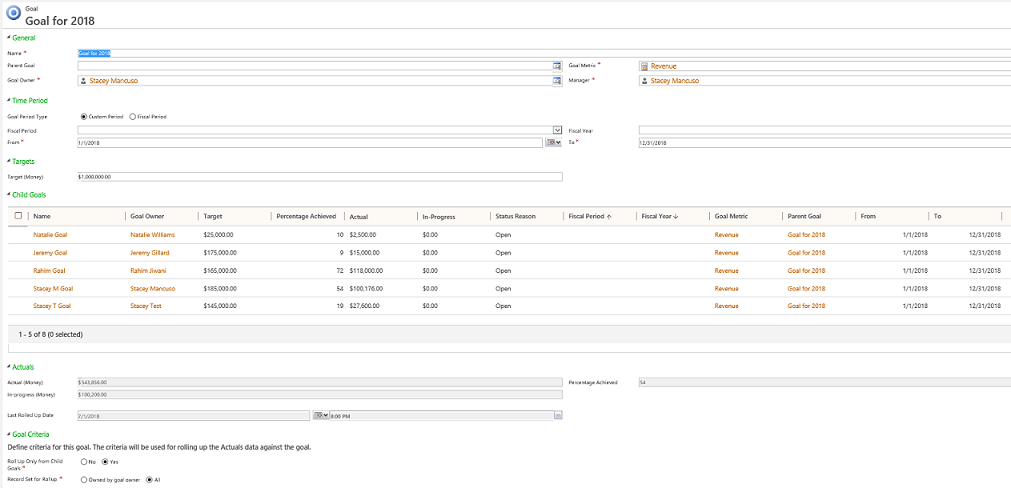 All sales records identified will be rolled up against each sales agent's goal, which are the child goals. Then the child goals will be rolled up to the parent goal, which is the overall sales team goal. You can then set up a dashboard with data components which display goal metrics, allowing you to sit back and monitor results as they start rolling in.
If you need assistance or have any questions while setting up goals, please reach out to our support team at This email address is being protected from spambots. You need JavaScript enabled to view it.. We are always happy to help you increase the productivity of your Dynamics 365 environment!